3 Must-See Metal Roofing Products At The International Roofing Expo
At Western States Metal Roofing, we're always keeping our finger on the pulse of roofing trends. We continuously strive to design new
metal panel
products for roofing installers that will exceed consumer's expectations.
We are excited to unveil our brand new product lines for 2020 at the International Roofing Expo (IRE). IRE is the largest event for roofing professionals, with over 1500 booths and 14,000 expected attendees. This event is where the roofing industry can get an up-close look at our newest products. You will find an offer to attend this year's expo at the end of this article.
The NRCA sponsored event, which takes place this year on February 4-6 in Dallas, TX, will be the first time we display our brand new products including:
The Matte Color Collection
T-8 Plankwall® in Walnut Wood®
Reclaimed Metal Rust® Panels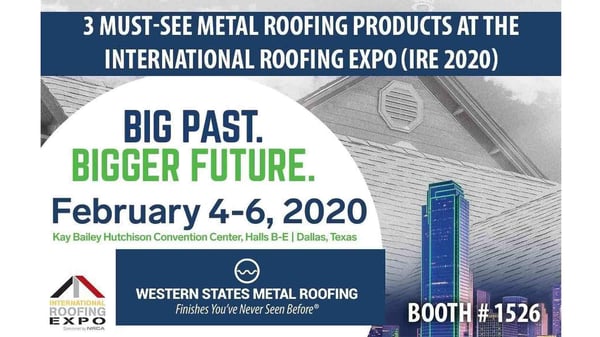 1. The Matte Color Collection
The use of matte finishes and dark colors has become a big trend in modern architecture. Matte colors have a warm, inviting look that is elegant and not as intense as a glossy finish. A matte finish softens the harsh appearance that black or other dark colors can give off.
Our Matte Color Collection features metal roofing and siding panels in 16 dark matte colors. Each color is available in all of your typical roofing and wall profiles. This makes Western States Metal Roofing the roofing manufacturer with the largest selection of matte colors.
2. T-8 Plankwall®
T-8 Plankwall® is a metal siding panel that is designed to look like wood. There are many benefits to using metal that looks like wood, as opposed to authentic wood.
Benefits
Maintenance-free
Waterproof and rot-resistant
Fire-resistant
No wood warping
No termites
Less expensive than using authentic wood
Includes 40-year limited painted warranty
T-8 Plankwall® arrives ready (no cutting, staining, or painting required)
Distressed Wood®, designed to mimic reclaimed wood, was released in 2019 and was our first T-8 Plankwall® product. It's success resulted in another color being added to the T-8 Plankwall® product line for 2020.
Walnut Wood®
The second new T-8 Plankwall® color is Walnut Wood®. This panel is designed to replicate repurposed wood in a natural brown finish. While Shou Sugi Ban Matte® only features one pattern throughout, Walnut Wood® has some more diversity to it. These panels feature four different patterns with the look of walnut wood within each panel that blend well together to prevent a repetitive aesthetic.
Applications
There are different ways T-8 Plankwall® panels can be used. They can be installed either vertically or horizontally. Since this siding is made for interior and exterior applications, use as an interior accent wall, exterior siding, or even fencing is possible.
Both new T-8 Plankwall colors are offered in Cool Tech® 500 PVDF (Kynar 500®) finish. The panels have a width of 8", the same as real wood planks, and lengths that vary from 1' to 45'. They are easy to install for vertical or horizontal use with concealed fasteners for wall, soffit, and fascia.
3. Reclaimed Metal Rust®
The Reclaimed Metal Rust® panel color was created to meet consumer demand for a galvanized look that is starting to rust. To achieve this look naturally, you'd need to locate reclaimed sheet metal on an old roof. Besides being expensive, that's hard to find.
The Reclaimed Metal Rust® panels are new steel that replicate the look of faded galvanized that is rusting. The finish is designed with galvanized white and silver coloring with red streaks throughout designed to mimic rust. This panel is available in Kynar 500® paint system and comes in ten different profile finishes.
Wrapping It All Up
Our newest products are designed to keep up with the current modern design trends of 2020. They will be available for pre-order at the the International Roofing Expo (Booth 1526) in Dallas, TX during February 4-6, 2020. If you do not have tickets to the show, click here to join us for FREE.
Otherwise, you can still see the new products in person by requesting a free sample of T-8 Plankwall®, Matte Colors, or any of our other products.
About The Author
Lauren is the Content Manager at Western States Metal Roofing and provides insight on content creation and product promotions.